Ryan's  Greek Tzatziki Sauce Recipe (Cucumber Sauce)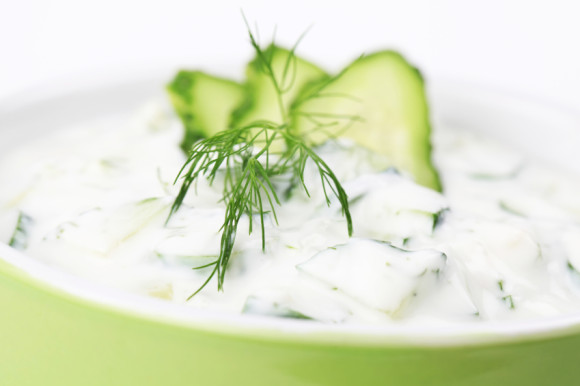 This wonderful Greek cucumber sauce is a versatile topping that can be used in appetizers, salads, main dishes, and more. Traditionally, it is used in Greek Gyro sandwiches, as a topping similar to what you would do with mayonnaise in an American sandwich. It's wonderful on top of beef, chicken, or lamb kebabs, on top of greek rice, on top of salads and also sandwiches.
This sauce is easy to make, very, very delicious, and will stay in the refrigerator for about a week.
Ingredients for sauce:
1 cup plain yogurt (make sure it's plain and not vanilla. Greek yogurt is fine but I like plain better)
3/4 cup sour cream
1 medium cucumber finally chopped (remove seeds and skin if desired)
1 tablespoon of white vinegar
1/4 teaspoon of dill (optional and/or you can also serve with fresh dill on top)
1/4 teaspoon of mint (also optional)
1 small onion or 1/2 large onion finally chopped
1 teaspoon of lemon juice
1/4 teaspoon of lemon zest
1 garlic clove finally chopped or pressed
1/4 teaspoon of oregano
1/3 cup of crumpled feta cheese
Salt and Pepper to taste
Add all ingredients in a glass bowl or similar. Still contents until smooth. Add salt and pepper to taste.
Cover and chill for 20 minutes or longer. Serve on top of your favorite dish.