Pickles! Pickles!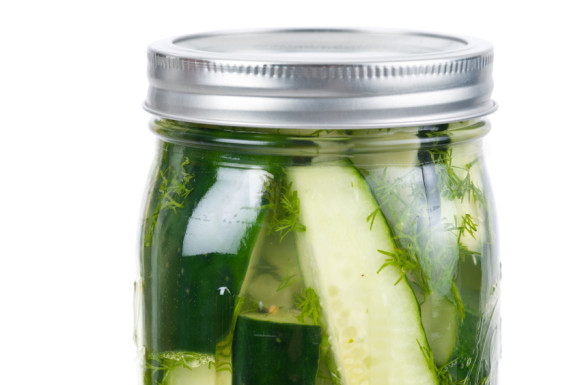 Now you don't have to buy pickles at the store again, because this recipe is easy and quick!  You should be done in about 10 minutes.
It does take a few days for the pickles to infuse and be ready to eat, but the preparation is a piece of cake.
The recipe I made below is prepared for savory, crunchy pickles to be ready-to-eat at the quickest time possible.  So, the pickles can be quite strong after a couple weeks in the fridge.  But they are perfect after 3 days. If you wish not to have such strong pickles, dilute the ingredients with more water (see at the bottom).  This also is better to do if you wish the pickles to be stored for a longer period of time.  As for everyone in my house, however, the pickles usually do not last more than a few days :)
1.5-2 cups apple cider or white vinegar
2 cups water
1 tablespoons coriander seeds
1 tablespoons mustard seeds
2 teaspoons salt
1-2 teaspoons fennel seeds
4-6 whole cloves of garlic (crush them if you want a garlic pickle)
2 teaspoons of dry dill or 2 tablespoons fresh dill
2 bay leaves (ensure there is 1 bay leaf for each Mason jar)
2 teaspoons of dry mustard (use more if you do not use mustard seeds)
2 teaspoons sugar
4 medium cucumbers cut in half then sliced length-wise
Add sliced cucumbers, garlic, and bay leaves to 2 Mason jars. Add all other ingredients to a small saucepan over high heat. Cook until it begins to boil and salt/sugar dissolves. Pour carefully the hot liquid equally into the 2 Mason jars.  Seal, and allow to cool to room temperature.  Refrigerate for 2-3 days before serving.  Then eat!
As you might already notice, this recipe is quite flexible. You can use carrots or cauliflower instead of cucumbers. You can add jalapenos or chilies if you want it spicy. You can also add other ingredients to make it international (ie. cumin for Indian flavor; or rice wine vinegar, sugar, and no dill for Asian).
If you wish to make cucumbers for long-term storage, change recipe to 1 cup vinegar and 2 1/2 cups water.  Refrigerate for 1 week prior to serving.