Ryan's Saag Shorba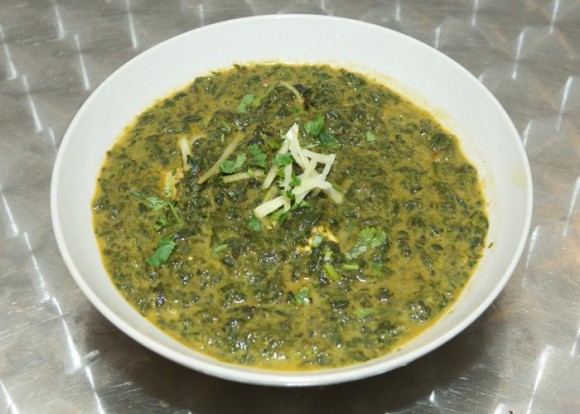 This is definitely my favorite soup of all time!  It has a heartiness to it that fills you up, and an amazing flavor.  I stock my freezer with leftovers of this to defrost and warm up  on days when I want something wonderful, but don't want to cook.  The amazing thing about this soup and many Indian dishes in general, is that they taste better the next day or keep the flavor even after 6 months in the freezer.
Ingredients:
12 oz spinach, fresh or frozen is fine
2 medium onions finely chopped
5 cloves of garlic
2 tbs of ghee (or vegetable oil)
3 inch piece of ginger chopped
2 teaspoons of coriander
2 teaspoons of ground cumin (or more if you like)
1 teaspoon of turmeric
Scant cayenne
Scant cardamom
5 cups of chicken broth
4 cups of tomatoes diced (or 32 oz canned diced or crushed)
1 tbs of tomato paste
2 cups of heavy cream
Salt to taste
In a large saucepan or pot, heat the ghee or oil on medium.  Add chopped onions. Saute for 5-10 minutes.  Add garlic, ginger, coriander, cumin, turmeric, cayenne, and cardamom.  Saute for 3 minutes more.
Add broth and bring to a boil.  Add spinach and tomatoes and bring back to a quick boil.
Turn off heat and transfer to a blender and blend until a thick consistency, just a few seconds. The spinach has to be broken up so there isn't long strands (see photo above).  Try not to make it into a puree.
Add back to pot and add cream, slowly to avoid curdling.
Add salt to taste and more cayenne and cumin if you wish.
Simmer for 10-20 minutes if you wish to enhance the flavor of the spices.
Serve with cilantro as garnish.
If you would like to have this soup as a main course with more substance, you can add chicken to the pot after you add the spices. It's probably best if the chicken is cut into pieces. Make sure to remove the chicken prior to blending the soup. Afterward, add the chicken back to the pot along with the blended soup.